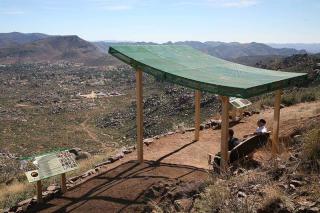 Yarnell, AZ: "Where the desert breeze meets the mountain air". This is a small town about 90 miles northwest of Phoenix, and as most people know, the town where 19 very brave forest firefighters (hotshots) lost their lives almost exactly 5 years ago, on June 30, 2013, trying to keep the town safe from an encroaching wildfire.
Come join us for a very special trip up to the Granite Mountain Hotshots Memorial State Park to pay tribute and learn more about these brave men who tragically passed while doing their job to protect the people and the area from further damage.
There is a 7 mile hike that has memorial plaques for each of the fallen hotshots spaced about every 600 ft along the trail as well as an observation point overlooking the Weaver mountains and the spot where the 19 perished. This will be an informative and somber/reflective hike, but you will still get in a workout while learning about these real-life heroes.
The trailhead starts at about 4300 ft. elevation and climbs about 1200 ft to 5460 ft., in 2.85mi. There is an additional 400 ft of climbing out of the final segment of the trail from the fatality site. As we will need to take a shuttle to get to the park, we will need to meet up a little bit earlier to allow more time.
After the hike, depending on time/interest, we can check out some shops in the town of Yarnell and grab a bite to eat before heading back to Phoenix.
Bring sun block, plenty of water, hiking shoes, lunch, and gas money for the driver(s).
For details and to RSVP, contact Neil Bass (
click here
).